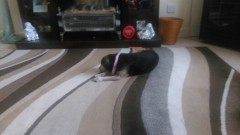 Hi All and Welcome to my Profile Page.
My name Annie and you all know me as Devil06
Am going out with Bullit89 who i love to pieces
My Mum Vixen who a caring person who i will never change.
My bro and sis Bandit and Baby Vixen who i think the world of.
My older Sis Charlie who been there when i need chat to.
My good friend on here is Ruby she a sweetheart
and all the rest of my friend who are good to me on here.
Am looking forward to play games with u all.