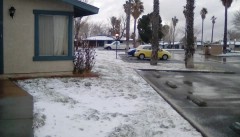 DYING FOR SPRING TO GET HERE. THIS IS A PICTURE OF MY HOME IN THE HIGH DESERT IN SOUTHERN CALIFORNIA! WHY IS IT SNOWING?
Find me on facebook...Laurie Thomas - Hesperia, CA. Just let me know your Bandit name so I know who I'm talkin' to! (109)
I'm here a lot, but stay in the tour room. I love, love, love my friends here.