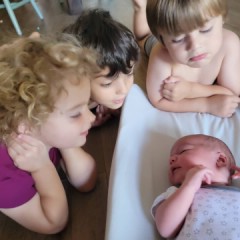 H i I'm Sabrina from California. I have 3 grown wonderful children who have been so awesome to give me seven beautiful grandchildren. I have been coming to bandit since June 2002. I have had the honor to meet and play games with people from different parts of the world. Many whom I consider my good friends.
Enough about me. I need to brag about my seven grandchildren. Five boys and two girls. These seven little ones rock my world. I am going to do my best to add some pictures of them in here to show why I brag about them.
Thank you for taking the time to read my profile and always remember to SMILE because it makes your heart stronger and to TELL YOUR LOVED ONES YOU LOVE THEM BECAUSE EVEN THOUGH THEY KNOW IT.......
IT SURE FEELS GOOD TO HEAR!